Conference Venue
---
The conference will take place at Charles University at the building of the Faculty of Mathematics and Physics at Malá Strana in Prague.
Venue address: Malostranské nám. 25, 180 00 Praha 1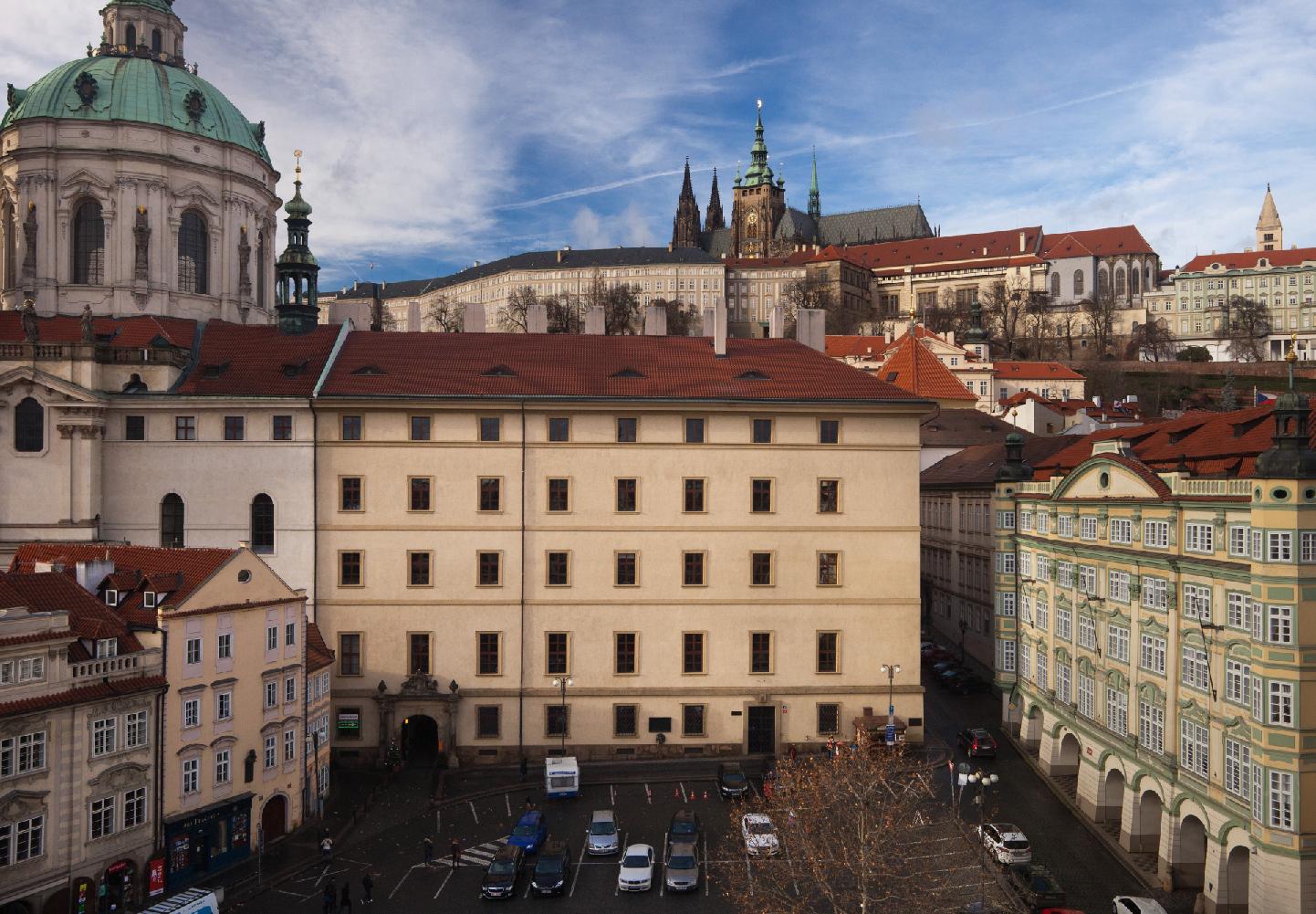 Using Prague Public Transportation
Conference venue is located very close to Malostranské náměstí stop, which is served by trams no. 12, 15, 20, and 22. The tram stop is right in front of the building where the conference will be held.
Inside the city the ticket price is 40 CZK/per 90 minutes. There are ticket vending machines at most of the metro and tram stops (pay by coins, sometimes it is possible to pay by contactless debit/credit cards) and inside all trams (here one needs a contactless debit/credit card). There is a vending machine at Malostranské náměstí stop. Don't forget to mark your tickets using orange/yellow machines which are located either inside bus or tram, or at the entrance to the metro stations. Alternatively, you can use official mobile application. See official webpage for details.
To plan you route, you can use for example IDOS. Or you can use route described in the section below.
Arriving to EUROCOMB'23 Venue
---
● By plane: Prague airport is one of the major airports in central Europe with many direct flights from major European cities and some direct flights from large cities around the World. To get from the airport you can use:

● Public transportation: To get from the airport use bus no. 119 to metro A (green line) station Nádraží Veleslavín direction Skalka or Depo Hostivař. At Malostranská stop change to tram 12, 15, 20 or 22 and get off at the next stop Malostranské náměstí.

● Taxi: You can pre-order private taxi (or shared shuttle) which takes you from the airport to Malostranské náměstí. The price for private taxi is approx. 700 CZK, the shuttle price according their price list, but the price per person decreases if you order it for more than one. The shuttle driver will pick you up with a name plate at the airport.

● Other taxi: The price from the airport to Malostranské náměstí should be about 550 CZK and might increase if you get queued in a traffic jam (about 7 CZK/min of waiting). To avoid trouble we advise to ask the driver to estimate the price before you start the ride. If the driver knows that you are aware of the expected price, you might get a fair ride. Also you can try app.liftago.

● By train: There are several good connection mostly from neighboring countries. If you will buy tickets online in advance (via cd.cz eshop) there can be a significant discount.

● By bus: The cheapest but maybe the most uncomfortable way. However there are plenty of buses from every major city in Europe.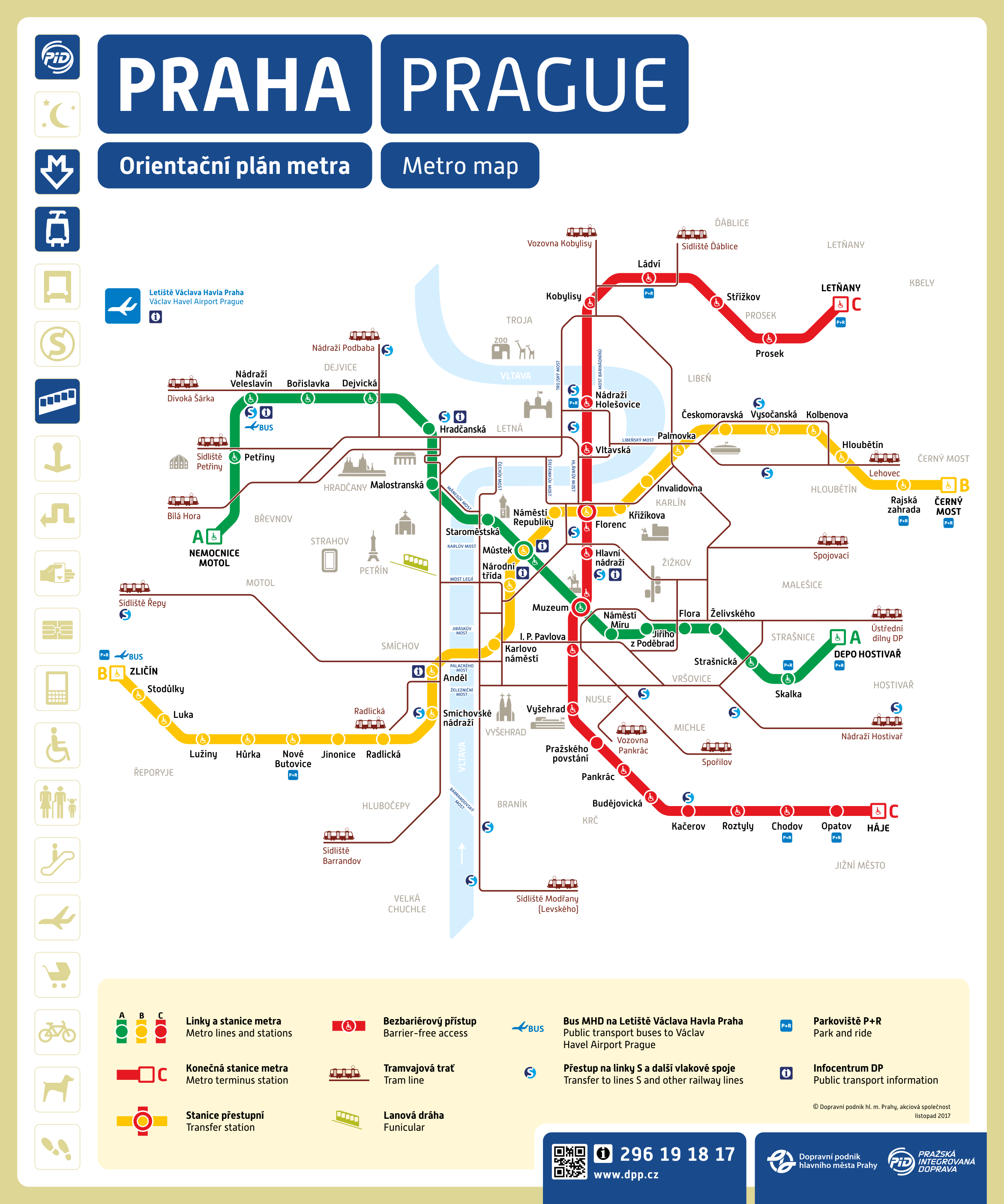 Approximate Travel Times to Reach the Conference Venue
Airport - conference venue: 25-30 min (taxi), 40 min (public transport)
Railway station - conference venue: 15-20 min (taxi), 15 min (public transport)
The times for transporatation by taxi may differ depending on the current traffic situation. The times for public transportation should not be affected that much.
Visa Requirements
---
The Czech Republic is part of the European Union and Schengen agreement zone. Visitors from some countries may need visa to enter Czech Republic. The relevant information can be found on the web pages of the Ministry of Foreign Affairs of the Czech Republic. If you are not sure whether the visa necessity applies to you, contact the Czech embassy or consulate in your country.
We are able to issue letters of invitation only to authors of talks or posters accepted for presentation at the conference. To ask for the letter of invitation, please register and send the following information to registration chair Milena Zeithamlová. The participant has to be registered and the conference fee has to be already paid.
Recommended information:
Your name and surname (i.e., family name)
Name and address of your employer
Address of residence
Date of birth
Nationality
Passport number
Passport expiration date
Title of your contribution to EUROCOMB'23
Czech consular authorities may ask you to enclose the confirmation of your accommodation as well as the health insurance for your stay in our country. Please take into account that visa are usually issued at the earliest 10 days after the application is submitted.
Things to be Aware of
---
Since Prague is a major tourist destination, it is unfortunately unavoidable that certain tourist traps exist, which you should be aware of. You can find a whole list of YouTube videos by the Honest Guide on scams found in Prague. Generally speaking Prague is a very welcoming city, but you probably should know about the following potential traps.
● At the airport: It is advisable not to exchange money, or to withdraw money at the airport (tickets for public transportation can be bought at a ticket machine at the bus stop, which accepts credit cards). The exchange offices at the airport often have terrible exchange rates (see also the note about exchanging money below). Many ATMs at the airport will try to fool you into withdrawing large amounts of cash, by only offering huge values. Remember that 1 Euro is approximately 25 or 27 CZK, and that Prague is still quite cheap compared to other European cities (for instance, lunch prices are between 150 and 250 CZK). If you need cash, it is recommended to either exchange or withdraw money in the city (see comments below), or bring it with. Most places in Prague will accept major credit cards though.

● Exchanging money: Especially in the very touristy old town of Prague, some exchange offices will try to offer you terrible exchange rates, for example 15 CZK for 1 Euro, while 1 Euro is worth about 25-27 CZK. Always check the exchange rate thoroughly: it should be at around 24 CZK for 1 Euro. Also, never exchange cash in the streets, as you will most likely receive some completely worthless currency instead of Czech crowns! We recommend eXchange, which has fair rates.

● Withdrawing money: At the airport some ATMs only offer to withdraw huge amounts of cash, which you will most likely not need (Prague is still quite cheap compared with other European cities). In the city you can come across ATMs that try to convince you that you should use their exchange rate instead of your bank's rate: you will get a choice between using the rate of the bank that the ATM belongs to and your bank, but the button for your bank will be colored red while the ATM's bank will be colored green to indicate that the latter is the supposedly better choice. However, this is often not the case, as the ATM's bank will have a worse rate.

● Taxis: Some taxi drivers will try to charge you horrendous rates, e.g., 5000 CZK instead of 500 CZK. It is recommended to try and avoid getting a taxi on the street (it's advisable to call one of the major Prague Taxi services) and if you have to, try to negotiate the price in advance. The maximum price designated by the city council is 36 CZK per kilometer.

● Shops and restaurants: In the old town area, some restaurants and corner stores will be quite overpriced. It is recommended to always check the prices before deciding to buy something at a store or ordering at a restaurant.