Informatický ústav Univerzity Karlovy
Computer Science Institute of Charles University

News and events
DocCourse 2016
24. setkání PIS, 24.11.2016
Noon lecture on Thu Dec 1
Noon lecture on Tue Dec 6
Noon lecture on Thu Dec 8
Noon lecture on Thu Dec 15
There is a noon lecture by Petr Glivický:
TBA
at 12:20 in S6.
IÚUK and CE-ITI meeting
5th Annual Scientific Meeting
of Computer Science Institute of Charles University and Institute for Theoretical Computer Science (CE-ITI) will be held on December 19, 2016
Noon lecture on Thu Jan 12
There is a noon lecture by Stephan Wagner:
TBA
at 12:20 in S6.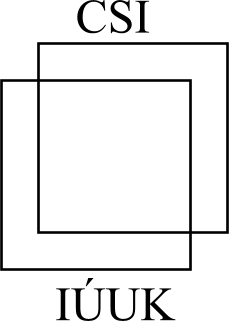 Vítejte na webových stránkach Informatického ústavu Univerzity Karlovy v Praze.
Welcome to the home page of the Computer Science Institute (CSI) of Charles University in Prague, Czech Republic. In Czech, the full name is "Informatický Ústav Univerzity Karlovy", hence the abbreviation "IUUK".
Univerzita Karlova v Praze
IUUK
Malostranské nám. 25
118 00 Praha 1
Czech Republic

| | |
| --- | --- |
| | sekretariat (at) iuuk.mff.cuni.cz (secretary) |
| | +420 95155-4230 (secretary) |
| | +420 257 531 014 (fax) |