Informatický ústav Univerzity Karlovy
Computer Science Institute of Charles University

News and events
Noon lecture on Thu May 28
Noon lecture on Thu Jun 11
STTI 2015
Na konferenci
STTI 2015
vystoupí mladí čeští a slovenští informatici, kteří v minulých letech uspěli na mezinárodním poli a jejichž práce byly referovány na některé prestižní mezinárodní konferenci.
GNU Tools Cauldron 2015
The purpose of
GCC gathering
is to gather all GNU tools developers, discuss current/future work, coordinate efforts, exchange reports on ongoing efforts, discuss development plans for the next 12 months, developer tutorials and any other related discussions.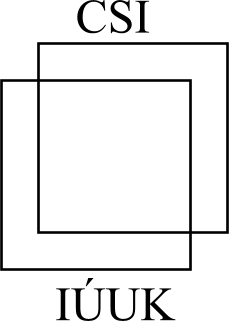 Vítejte na webových stránkach Informatického ústavu Univerzity Karlovy v Praze.
Welcome to the home page of the Computer Science Institute (CSI) of Charles University in Prague, Czech Republic. In Czech, the full name is "Informatický Ústav Univerzity Karlovy", hence the abbreviation "IUUK".
Univerzita Karlova v Praze
IUUK
Malostranské nám. 25
118 00 Praha 1
Czech Republic