Informatický ústav Univerzity Karlovy
Computer Science Institute of Charles University

News and events
12. setkání PIS, 26.3.2015
Noon lecture on Thu Apr 2
Noon lecture on Thu May 14
There is a noon lecture by Matěj Stehlík:
TBA
at 12:20 in S6.
STTI 2015
Na konferenci
STTI 2015
vystoupí mladí čeští a slovenští informatici, kteří v minulých letech uspěli na mezinárodním poli a jejichž práce byly referovány na některé prestižní mezinárodní konferenci.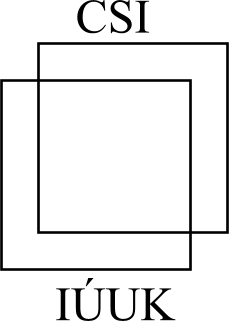 S lítostí oznamujeme, že profesor Jiří Matoušek, člen KAM od roku 1987, zemřel po těžké nemoci 9. března 2015 v předvečer svých 52. narozenin. Smuteční oznámení.
With a regret we inform that our colleague and friend Prof. Jiri Matousek passed away after a serious illness on March 9th, 2015, one day before his 52nd birthday. Obituary.
Vítejte na webových stránkach Informatického ústavu Univerzity Karlovy v Praze.
Welcome to the home page of the Computer Science Institute (CSI) of Charles University in Prague, Czech Republic. In Czech, the full name is "Informatický Ústav Univerzity Karlovy", hence the abbreviation "IUUK".
Univerzita Karlova v Praze
IUUK
Malostranské nám. 25
118 00 Praha 1
Czech Republic